​Once a small group of people, penny stock brokers are becoming increasingly in demand, due to the interest in penny stocks themselves. Penny stocks have a reputation for being very volatile and explosive, as it is not entirely strange to see them jump up in price by large amounts, nor is it weird to see their prices simply plummet all of a sudden. When looking for penny stock brokers, it is important to consider the commissions and fees that must be paid per trade. This is because penny stock traders usually make a large amount of short-term trades as part of their investment strategies.

There are a few things that you should look at when deciding upon a broker. For example, consider the commissions, the minimum deposit or funding amount, whether there are any special sign-up incentives, or whether there are fees for inactivity.

Commissions are often one of the more obvious ways to decide between penny stock brokers, as the smaller commission amounts obviously mean less money that you pay out, and more money that you can invest, right? While this may be true, it is dangerous to consider brokers simply according to commission amounts, especially when there are many other elements to being a great broker or broker site.

For example, if you are starting your investment career with a minimal amount of money, the minimum funding amount (if any) will certainly take center stage in your decision. Also, many popular web sites will offer deals where you get a certain amount of free trades when you sign up. This can be a great way to save a little money as you get introduced to this type of investing.

It is important to make a wise decision when choosing between penny stock brokers. After all, there are a lot of factors to consider, many of which could have a measurable effect on how much money you can make. If you have an idea of your penny stock trading strategy or knowledge about the market itself, you will be in a much better position to select the best broker for you.

With a long history of small cap investing and micro cap funds,

Paradigm Capital Management

employs a disciplined, bottom-up approach with an emphasis on fundamental analysis and extensive management contact.

Our three decades of experience provide an exceptional level of insight that is reflected in our high-conviction portfolios.
Powered by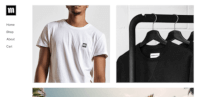 Create your own unique website with customizable templates.